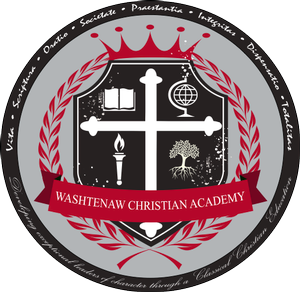 WCA's Crest
WCA as been in existence since 1976 and has remained throughout the years dedicated in its unwavering allegiance to keeping WCA a Christian School who is wholly devoted to serving Christ and His kingdom. To that end, WCA continues to develop leaders who love learning and see with awe and wonder the majesty of God's creation in all of our classroom subjects.
Transitioning to a "Classical Christian School" model helped us put a label on who we are, and gave us the opportunity to explore who WCA is at its very core and set a firm direction for the school's future. As we looked at who we are and where we wanted to take WCA in the future, we wanted to build on our strong heritage and portray those key aspects of what WCA stands for and incorporate that into our crest. The crest pictorially represents WCA's vision, mission and visually articulates that direction.
In the crest, each symbol and Latin word envelopes who we are and has significance in how we operate as a school and community. As you will see, it starts with the crown -- Christ as our Head. We first and foremost are a Christian school and teach with a distinctly biblical worldview. We are encircled by our core beliefs, as portrayed in the circle with those beliefs in Latin (representing the embracing of the classical education). These core beliefs help keep our focus on who we are as a community and remind us of our calling as Believers to raise our children in God's way.
Our "tagline" rounds out the circle of the crest, stating why we do what we do. We are here to develop the future leaders, those who will have an impact on the world for Christ. We are here to give them the best education possible and while we have time, to impact their worldview. We strive to help them see God in a way that the secular schools do not. We want them to see the awesomeness of God in every detail of every day, in every lesson, and in every effort.
The cross at the center signifies that we are saved by Christ's sacrifice. While we remain non-denominational, we are united in this belief that without the cross, we are lost.
The laurels represent our victory in Christ and the student's victory in graduating through this institution.
Our shield is our acknowledgement that God calls us to have a shield/breastplate of righteousness, which all the other symbols rest on. The shield is our coat of arms and displays what we stand for.
The symbols on our shield are the main elements we are called to teach ... the open book represents our commitment to classic literature and all that it teaches us about piety and seeing man and our relationship to God. More importantly, the open book also represents our commitment to God's Word and staying true to what it teaches. The globe is an emblem of sovereignty as God is over all and has created all. The globe also represents history and our commitment to digging deeper into seeing where we have been and how culture impacts our world and how God calls us to see and have empathy for our world. The torch is a long-time symbol of carrying the Truth and passing it on to the next generation. The tree represents the school's classical direction. The trivium is made up of the grammar, logic and rhetoric schools ... learn more about that on the pages in this website that explain what it is to be a classical school.
The banner that wraps itself around the shield and laurels is the name of the school, "Washtenaw Christian Academy" and it is our commitment to remain wrapped around this mission to explore knowledge, embrace wisdom and stand for truth ... all to the Glory of God!
Images/icons:
Crown - Christ as head
Cross - saved by sacrifice
Shield - coat of arms displaying what we stand for
Laurel Wreath - symbol of victory, graduation
Open book - liberal arts/classic literature
Globe - historic, emblem of sovereignty
Torch - illuminate/carry truth
Tree - one that we used to show grammar, logic, rhetoric - trivium
Tag line:
Developing exceptional leaders of character through a Classical Christian Education
Latin translation:
"Vita" -- Life
"Scriptura" -- Scripture
"Oratio" -- Prayer
"Societate" -- Partnership
"Praestantia" -- Excellence
"Integritas" -- Integrity
"Dispensatio" -- Stewardship
"Totalitas" -- Wholeness