WCA's International Student Program
WCA has been blessed to host a variety of students from all over the world. It is an awesome opportunity for our students to experience different cultures on a personal and up close basis.
Washtenaw Christian Academy has welcomed students from Brazil, Chile, China, Germany, Japan, Korea, and Sweden. We look forward to sharing with you all that WCA has to offer through our Christian, college-preparatory program.
In order for an international student to be considered for admission, the following must first be completed:
New Family Application with the $500 application fee (Click link to online application. Be sure to indicate that you are an international student.
Student Response Form
Parent Response Form
Evaluation from current English teacher
Evaluation from current Math teacher
Evaluation by student selected teacher
Copy of transcripts translated for Guidance Counselor
Copy of passport
Copy of birth certificate
Copy of Health Appraisal with up-to-date immunizations
All international students must take the Test of English as a Foreign Language (TOEFL) and send the score report to WCA prior to admission. An adequate proficiency in English is required.
Once all the above items are received and processed by WCA, a Skype interview may be arranged.
After an international student has been accepted at WCA, the student will be issued a Form I-20, "Certificate of Eligibility for Non-immigrant (F-1) Student Status." The Form I-20 is needed to apply for the F-1 Visa at United States consulate and embassies abroad, apply for change of non-immigrant status in the United States to F-1, or secure permission to transfer to Washtenaw Christian Academy from another school in the United States in continued F-1 status.
For more information about Admissions, please contact Deborah Hazey at dhazey@washtenawchristian.org or 734-429-7733, ext. 2115.
International Students
If you are interested in applying to come to WCA please proceed to our online application.

WCA Host Families
Have you ever thought of being a host family to an international student? Are you overwhelming yourself with questions and that stops you from checking it out?
Below are some of the top questions that come up and some of the answers (cut and pasted) from our key contacts and their websites. We believe this will help fill in the information gap and help you in making a fully informed decision.
We hope that you will prayerfully consider becoming a host family!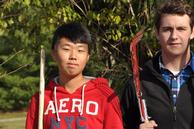 Interested in Hosting?